If you took a survey on what households do about rug cleaning in Phoenix AZ, it wouldn't come as a surprise if the majority of them would answer that they do the cleaning themselves. Such people believe that vacuuming regularly is enough to maintain the cleanliness of their carpet and their home in general, but this is not the case.
We, at Metro Cleaning Carpet & Tile Restoration, know that do-it-yourself rug cleaning is not sufficient to thoroughly clean and maintain your precious carpet and prevent your family from contracting diseases. As they say, prevention is better than cure, which is why you should let professional like us handle your rug cleaning if you desire what's best for your family.
What are the Benefits of Relying on Professional Rug Cleaning?
Instead of doing what most people do regarding carpet cleaning, it is best that you let a company like us who are experts in rug cleaning in Phoenix AZ do the work for the following reasons:
To Extend the Life of Your Carpet
No matter how often you vacuum, your carpet still accumulates dirt, dust, allergens, and other debris over time. All these things get embedded within the rug fibers which would cause them to deteriorate rapidly. To extend the life of your carpet, you need to prevent the accumulation of dust and dirt from happening.
Our rug cleaning specialists can carry out various cleaning methods that will effectively extract all the dirt that has been buried deep in your carpet. Relying on us for periodic deep cleaning while you vacuum daily will extend the life of your precious carpet.
To Prevent Indoor Allergies
Whether you believe it or not, indoor air quality can be ten times worse than the quality of air outdoors particularly if you fail to clean your rug and drapes properly. As mentioned earlier, your carpet accumulates dirt and dust which can find their way in the indoor air. When this happens, your family members would be susceptible to allergic reactions and respiratory problems.
While daily vacuuming helps in cleaning the rug surface, you need professional cleaners like us to remove all dirt and allergens embedded in the fibers. Moreover, our carpet cleaning service is asthma and allergy-friendly, while at the same time removes up to 94% of common household allergens.
To Increase the Aesthetic Value of Your Home
Your carpet flooring is the largest furnishing in your home as it covers practically all areas of the house. For this reason, its quality and appearance can impact the overall appearance of your home. When you rely on us to clean your rug periodically, you can be assured that your carpet would look as good as new for a long time.
We, at Metro Cleaning Carpet & Tile Restoration, boast of our serious commitment to providing our clients with outstanding service. Note that we are not only content in meeting your expectations, but we always aim at surpassing them. Try our services and experience the difference of a professionally-cleaned rug today.
Rug Cleaning Phoenix AZ
Metro Cleaning Carpet & Tile Restoration
623-516-7771
3420 E Shea Blvd #200, Phoenix, AZ 85028
View Larger Map
Related Posts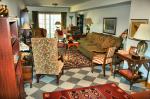 Take advantage of professional rug cleaning in Phoenix, AZ by calling Metro Cleaning Carpet & Tile Restoration. We're more than a reputable carpet cleaning company- we also offer expert area rug cleaning to extend the life of your home or business' rugs and keep them looking like new. If you're currently searching for a rug cleaning agency that can do it all for less, give us a call.Stain ...
We welcome your comments!